Homoeopathy medicines are known to be safe and effective in providing permanent cure to one's health and with the onset of the winter season along with the harsh effects of pollution, it becomes a need to have a homoeopathic cough syrup at hand. Cough is one of the body's defense mechanisms as it prevents infections and diseases from invading the respiratory tract. However, it can sometimes cause great distress and difficulty in breathing which needs to be treated.
Some of the methods to prevent incessant and troublesome cough are:
Steam inhalation to clear phlegm.
Including anti-inflammatory foods in diet such as turmeric, garlic and honey.
Medication including syrups.
Breathing exercises such as yoga.
Omeo Cough Syrup which is a Medicated Homoeopathic Syrup acts as a Cough reliever and is safe and easy to use.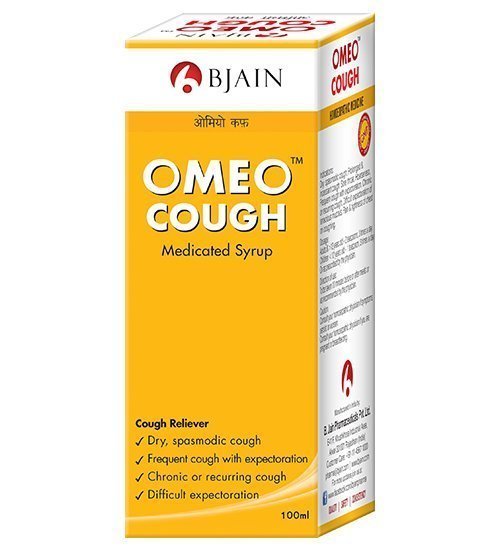 Its can be used for :
Dry and spasmodic cough
Prolonged and long lasting cough
Incessant cough
Sore throat
Hoarseness
Cough with expectoration
Recurring cough
Difficulty in expectoration of mucus
Pain in chest on coughing
Tightness of chest on coughing
Its contents include the following :
B Jain Pharmaceuticals, an extension of B Jain Group of companies, vows by its virtues of Quality, Safety and Consistency. This makes it the most trusted Homoeopathic Pharmaceutical Company in India and abroad. With its manufacturing plant set in Bhiwadi, Rajasthan, the organization has been able to continually deliver high grade of products and was able to acquire Indian GMP, Canadian GMP and ISO Certification- all in the first year of its foundation.
The establishment has taken Indian Manufacturing to the next level by creating a name for itself Internationally. This has been possible due to its vigilant SOPs followed at each level of production such as procuring the finest quality raw materials, testing them before their entry into the unit, discarding substandard ingredients, careful preparation of all its products following strict Homoeopathic guidelines, developing a specialized ageing duration for each Mother Tincture, immaculate packaging and recognizing the need for updated products as per the community's requirements.
Taking the legacy forward, the group has diversified and evolved a new vertical of Personal Care Products under the brand name "Omeo" with the objective of delivering exceptional quality Self-care merchandise. The entire range is expanding and is invested in continuous research with the commitment to be not just SLS and Paraben Free but also Cruelty-free and void of all potentially hazardous ingredients for its users.
B Jain Pharmaceuticals believe that Consistency transforms into Excellence and is focused on bringing the best of the best for its patrons.
Read More BJain Pharma Blog – Acid Group of Remedies in Homoeopathy